Free Your Child From Overeating: 53 Mind-Body Strategies for Lifelong Health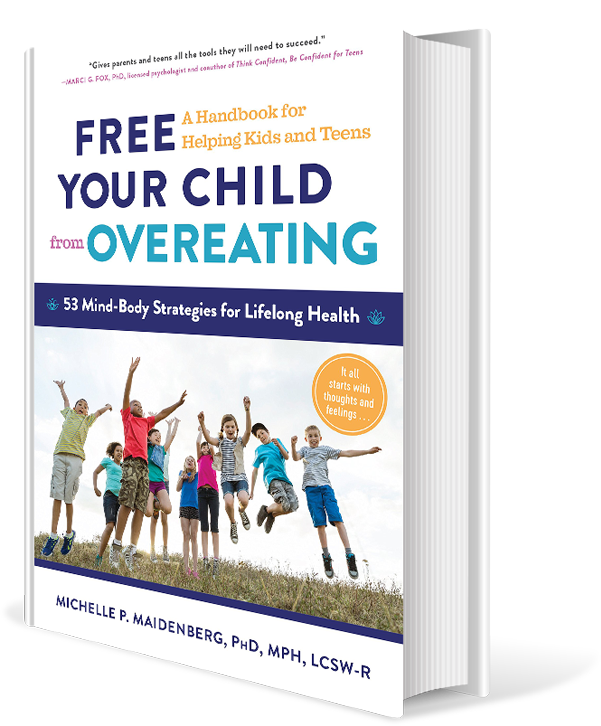 Overeating is an overwhelming issue for many kids and teens today. As a therapist and health advocate, Dr. Michelle P. Maidenberg knows that it is a complex issue that requires both the consideration of "mind" and "body." The key and missing link which isn't adequately considered and addressed is the psychological and emotional hurdles that get in the way of facilitating effective lifelong change. Michelle also understands the importance of acceptance, compassion and empowerment—not to mention patience—as she, herself, teaches and practices these skills on a daily basis.
With Free your Child From Overeating, parents can help their ten-to eighteen-year-old kids and teens understand their values, set realistic goals, problem solve, and approach any challenge with greater willingness and confidence. Backed by evidence-based research methods, Dr. Maidenberg incorporates the principles of mindfulness, cognitive-behavioral therapy, and acceptance and commitment therapy into the 53 strategies in this book. Parents and kids and teens will work collaboratively on skills and exercises with prompts to explore thoughts, feelings and behaviors. Kids and teens will practice:
Accepting not controlling their thoughts
Connection with their personal values
Eating mindfully
Identifying sabotaging thought patterns, triggers and cravings
Setting goals and using the 4Ps (predict, plan, put into action, and practice)
There are mindfulness exercises that correspond to each chapter giving kids, teens, and parents the opportunity to gain present moment awareness, improved focus, and an integration of skills. By understanding their kids and teens thoughts, feelings and experiences, parents can start the conversation and help them learn to manage their health—once and for all. This book is also versatile and can effectively be used by physicians, nutritionists, therapists and health advocates. All can positively benefit from reading this book.